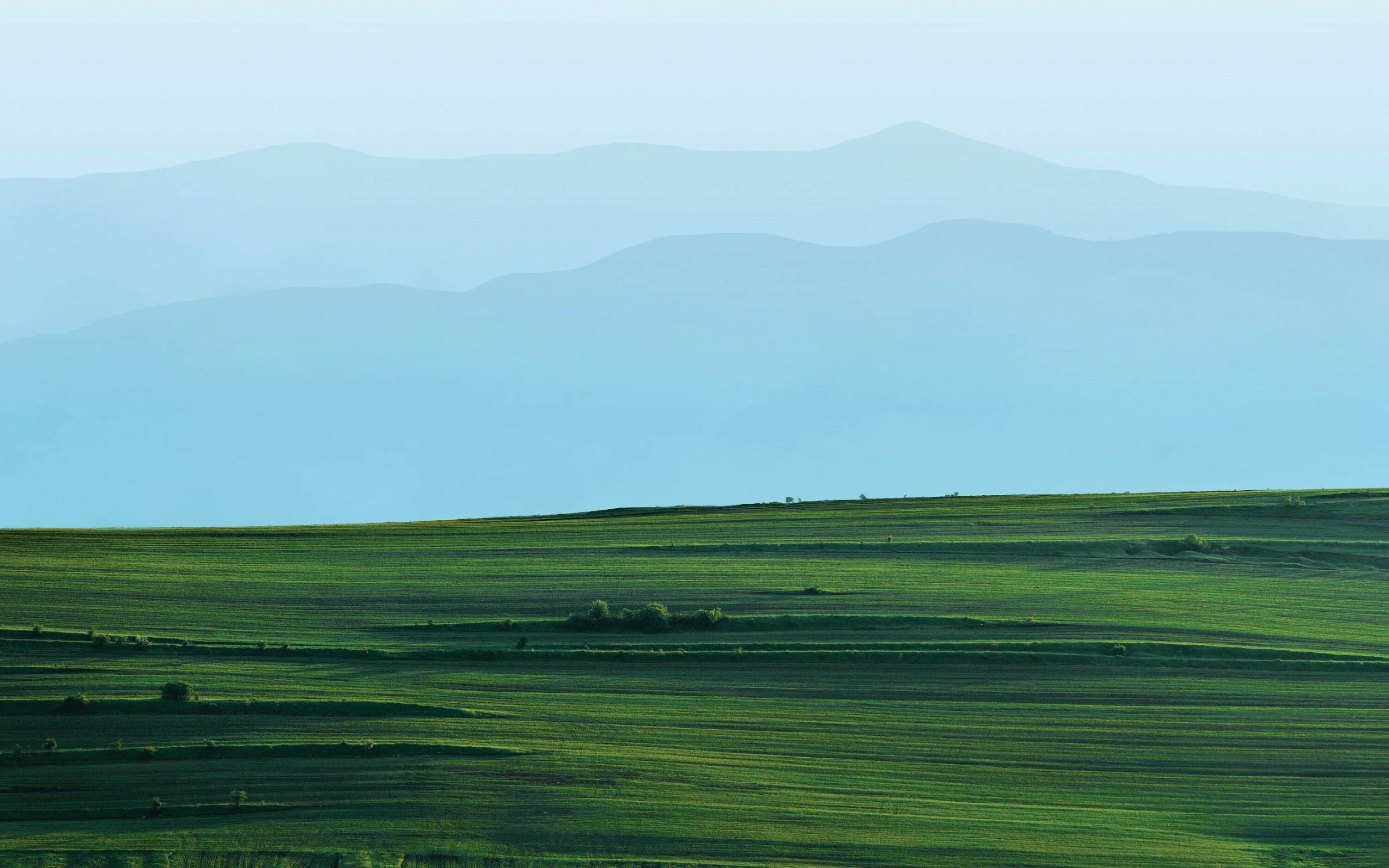 Natural Gas
12 projects
5,660 megawatts in operation
Transmission
4,199 miles of transmission & collection lines developed
Storage
8 projects
109.5 megawatts in operation
Solar
24 projects
1,643 megawatts in operation
Wind
101 projects
16,076 megawatts in operation
30 Gigawatts in 20 Years, How Far We've Come.
As we reached our 20th anniversary and 30 gigawatt milestones, we celebrated the incredible achievements of our team over the last two decades. This year was not only historic for Invenergy, but for the clean energy industry as a whole.
Our portfolio growth in 2022
3,723
Construction jobs supported
Projects newly operational in 2022
Energía del Pacífico (LNG), El Salvador 380 MW
Fenicias Wind Energy Center, Mexico 168 MW
La Toba Energy Center (Solar), Mexico 32 MW
La Toba Energy Center (Storage), Mexico 20 MW
Orangeville Energy Center (Storage), NY 20 MW
Plymouth Wind Energy Center, IA 200 MW
Thunderhead Wind Energy Center, NE 300 MW
Traverse Wind Energy Center, OK 999 MW
Samson Solar Energy Center, TX 250 MW
Samson III Solar Energy Center, TX 250 MW
Westar Storage, KS 1 MW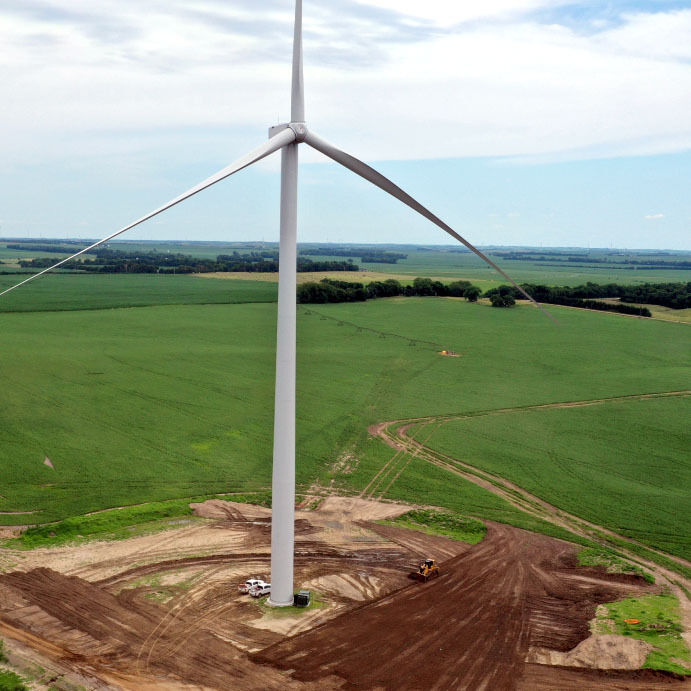 In 2022, we added seven projects to our U.S. operating portfolio, and fourteen projects to the Invenergy Services U.S. portfolio.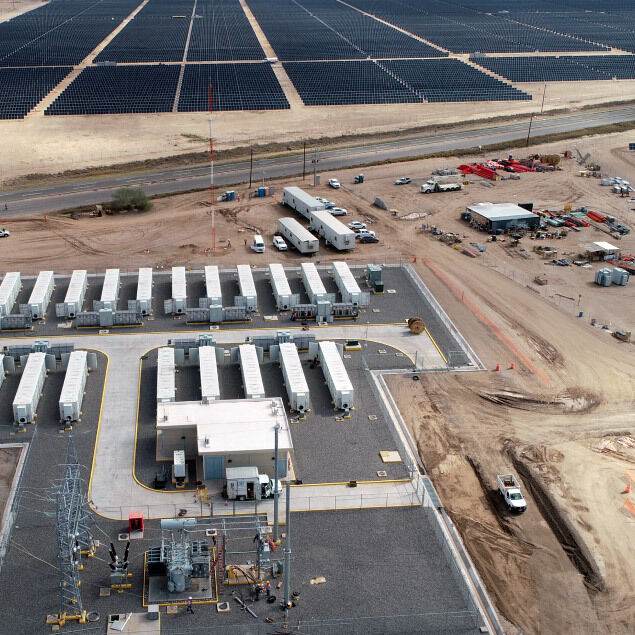 Commercial operations began at Fenicias Wind Energy Center, located in Nuevo Leon, Mexico, and La Toba Solar and Storage Energy Center, located in Baja California, Mexico.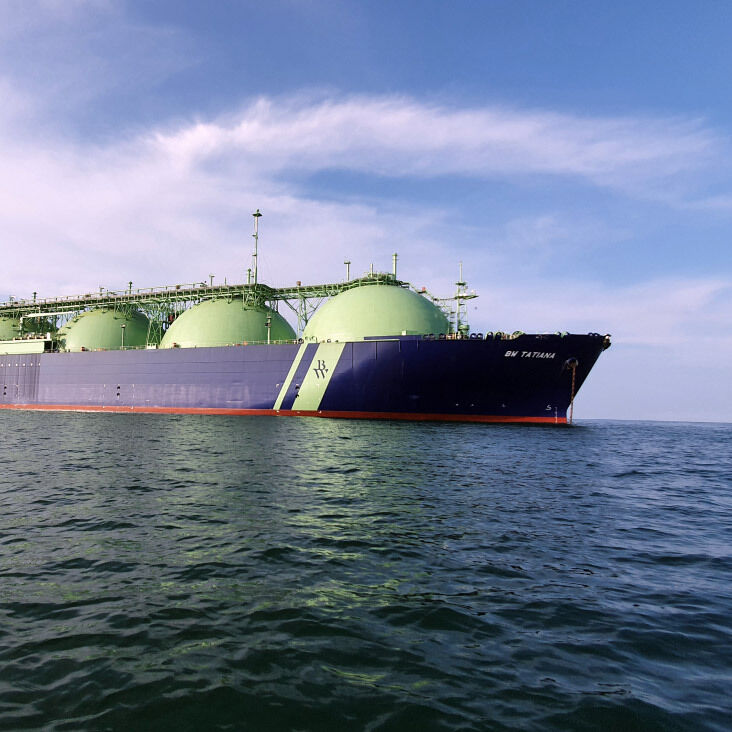 We reached commercial operations for Energía del Pacífico (EDP), an LNG-to-power project located at the Port of Acajutla in El Salvador in May of 2022. This project is providing reliable power to meet up to 30% of El Salvador's energy demand, while offsetting 600,000 tons of CO₂ per year.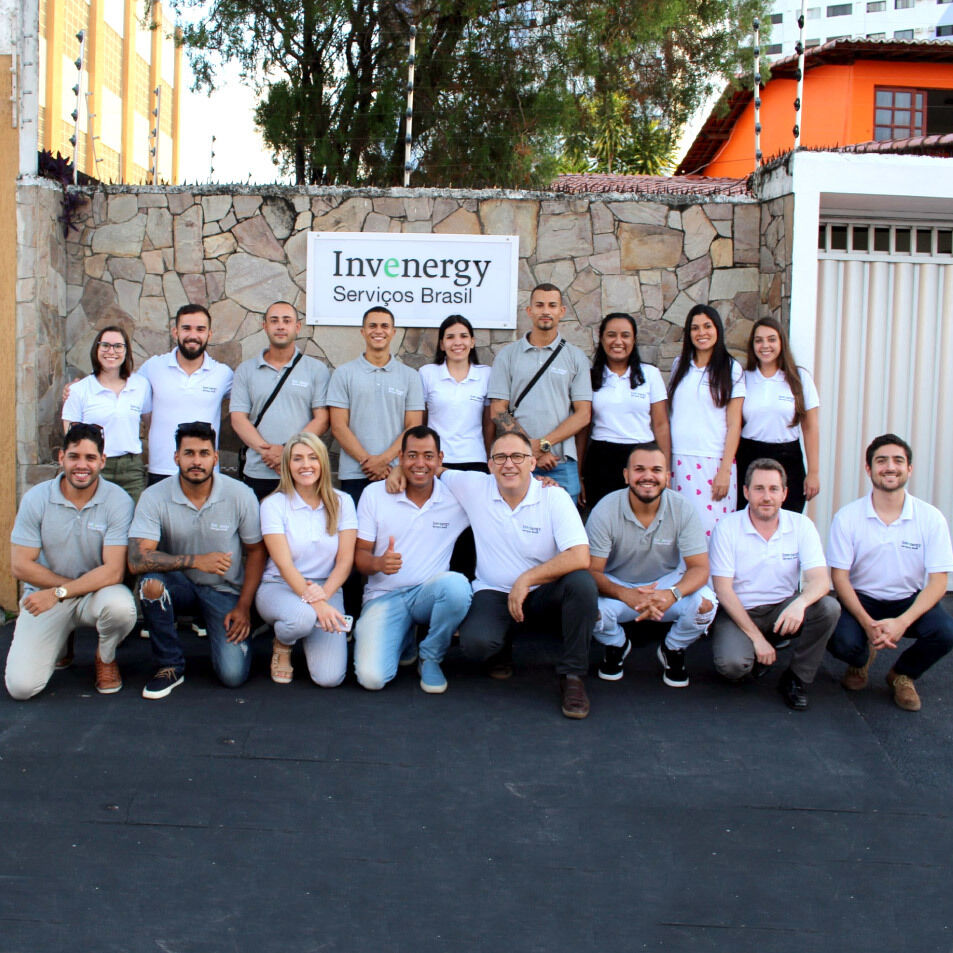 The Invenergy Services' team international presence grew exponentially in 2022 with our entry into Brazil and expansion in Spain. We acquired Alísios, a Brazilian company specialized in operating wind farms, and HUSO Renovables, a leading renewables operations and maintenance provider in Spain.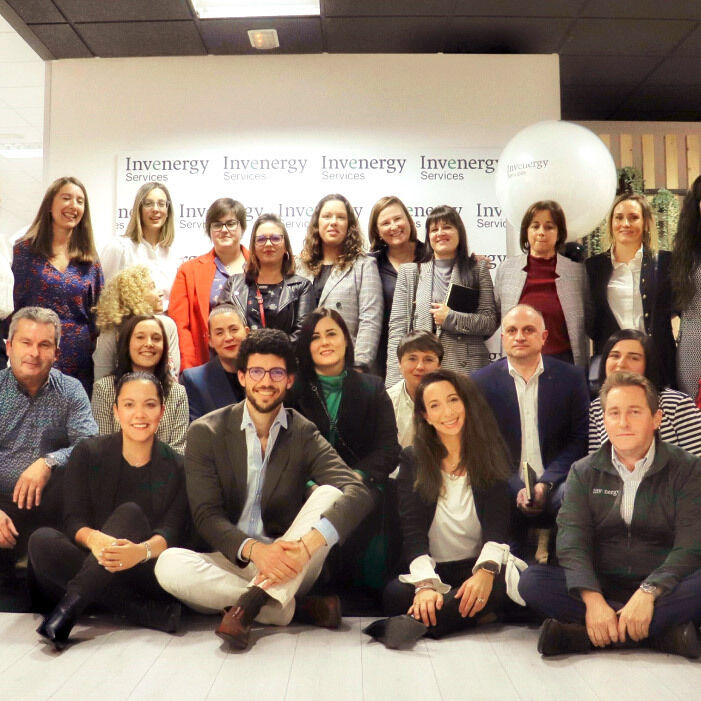 The Invenergy Services' team international presence grew exponentially in 2022 with our entry into Brazil and expansion in Spain. We acquired Alísios, a Brazilian company specialized in operating wind farms, and HUSO Renovables, a leading renewables operations and maintenance provider in Spain.
Advancing Environmental Responsibility
We are committed to advancing the co-existence of our projects with their surrounding environments through development, construction and operations.
766 million
trees planted
CO2 equivalent
9.9 million
cars off the road
CO2 equivalent
Net Zero by 2050
For over 20 years, we have led the transition to clean energy, enabling our customers to prevent over 215 million tons of CO2 emissions.
As a leading clean energy company with a global view, we are proud to look to the future and share our plans to reduce our own environmental footprint to net-zero greenhouse gas emissions by 2050.
2030
Reduce 50% of renewable portfolio scope 1 & 2 emissions
Address 70% of our entire portfolio scope 3 emissions through supplier engagement and reduction
2040
Achieve net zero in renewable portfolio scope 1 & 2 emissions
Reduce 40% of clean power portfolio scope 1 & 2 emissions
2050
Achieve net zero emissions across entire portfolio for scope 1, 2 & 3
Environmental compliance & strategy
Our environmental compliance and strategy (ECS) team consults with state and federal governments as well as resource experts to ensure our projects incorporate real-time data insights and opportunities for resource impact minimization.
Improving Invenergy's circular economy
We're constantly learning and testing new ways to ensure our projects run at the highest efficiency possible, while exploring ways to reduce and recycle components at their end of life.
People Powering
Growth
Our team has helped shape the company we are today, and it's thanks to their hard work and dedication that we continue to be innovators building a sustainable world.
Employees across the globe
New positions filled by internal candidates through promotions and lateral development
Whether they've been with Invenergy since the start or joined along the way, our colleagues have seen first hand how we've grown and changed over the years.
Since I joined Invenergy, the biggest change I have seen is growth in the company. We were just a few people 20 years ago and now Invenergy has several plants and offices all over the world."
The biggest change that I've seen in my 15 years is the level of specialty expertise carried throughout the company. Early on, we really didn't know what we didn't know, and we managed to succeed through hard work and perseverance. But over the years our projects and the external business environment have grown increasingly more complicated. To meet those challenges, our internal resources — whether technical, financial, or administrative – have grown so much stronger today than they were 15 years ago."
One of the things that has amazed me the most about Invenergy throughout the 10 years that I have worked here, is its ability to adapt and develop new projects and technologies. When I started working at Invenergy, the portfolio mainly focused on 3 technologies: wind, solar and natural gas. Currently, however, the company oversees multiple projects such as storage, LNG-to-power, transmission, water, offshore wind, hydrogen, among other new technologies."
Our dedication to safety
Whether an employee is climbing the interior of a wind turbine or operating at ground level, our commitment to safety is always at the forefront of our work.
65 hours
safety training per services employee
Total fleetwide training hours
Fostering a culture of safety is paramount in the work we do, and to share what it means across all levels of the organization, we introduced the Safety Fireside Chat video series.

Listen to key highlights on what sets us apart in the industry:
Diversity, equity & inclusion
We are as committed to becoming a more diverse, equitable and inclusive company as we are to building a sustainable world. Fostering an environment where diverse perspectives are sought, everyone feels included and can grow to their full potential is all of our responsibility.
U.S.-based employees are military veterans
01
cumulative years of military service by Invenergy employees
02
U.S. corporate employees who are women
03
of U.S. corporate new hires were women in 2022
04
U.S. corporate employees are people of color
05
of U.S. corporate new hires were people of color in 2022
06
Invenergy Affinity Groups
Invenergy Affinity Groups provide opportunities for our employees with shared interests and common bonds to connect on meaningful levels.
Membership growth in 2022

Black & Brown @ Invenergy (BBI) focuses on increasing awareness, presence, opportunity, participation, and advocacy for people of African ancestry in sustainable energy careers.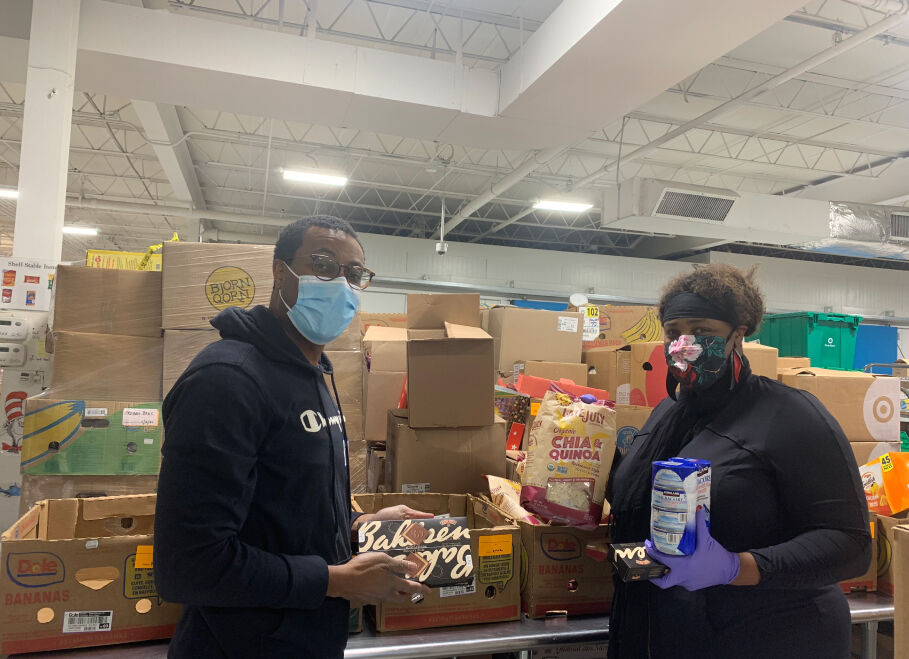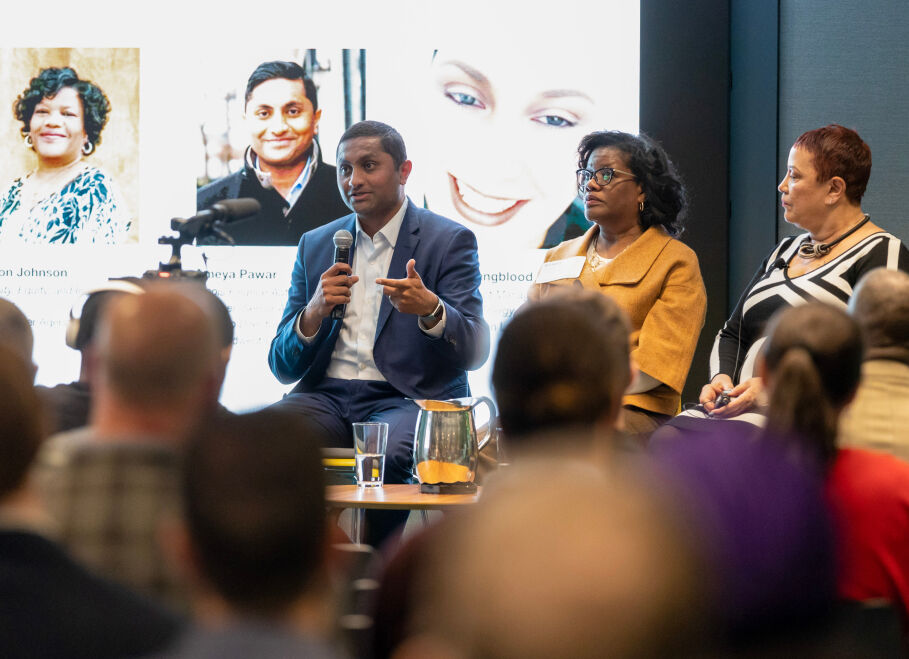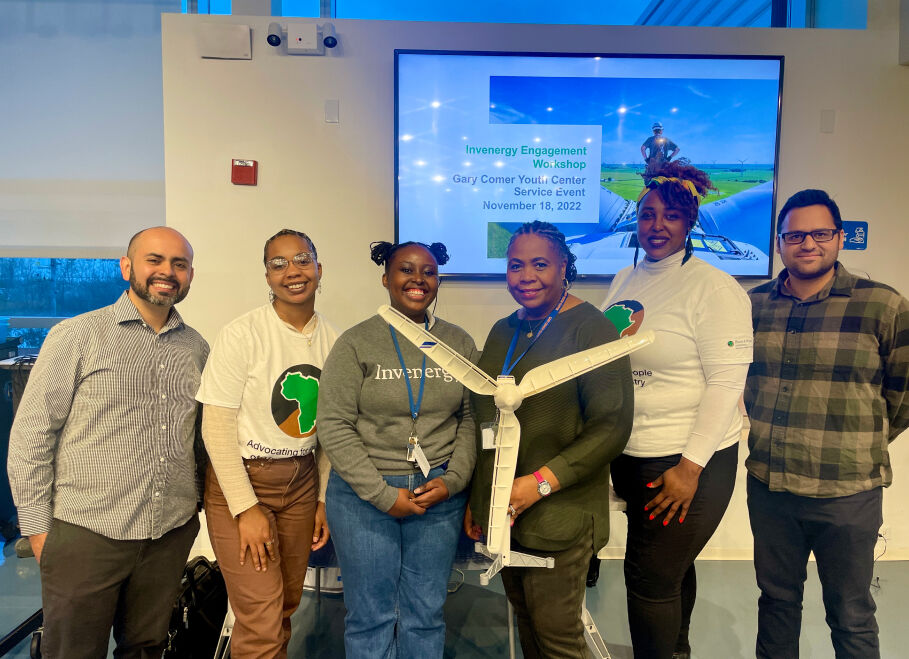 Empowering Communities
Being an active and responsible community partner is at the heart of everything we do. As we expanded into new regions across the globe, this philosophy continues to guide us.
Total economic investment in home communities:
$224M
Land costs and lease payments
$69M
State and
local taxes
From the United States to Latin America and Europe, we supported causes that meant the most to the areas where we live, develop, work and operate.
$2.7

M

Total cause-based investments

62%▲ increase from 2021

$673,000

Community

$903,000

Education

$420,000

Health & EMS

$51,000

Veterans

$717,000

Environment
Our volunteerism
Our volunteer time off program allows our teams to dedicate one workday a year to assisting nonprofit organizations and giving back to their communities. Whether it's helping out at animal shelters, food banks, or serving as cleanup crews, Invenergy is proud of the positive impact our employees make in the world.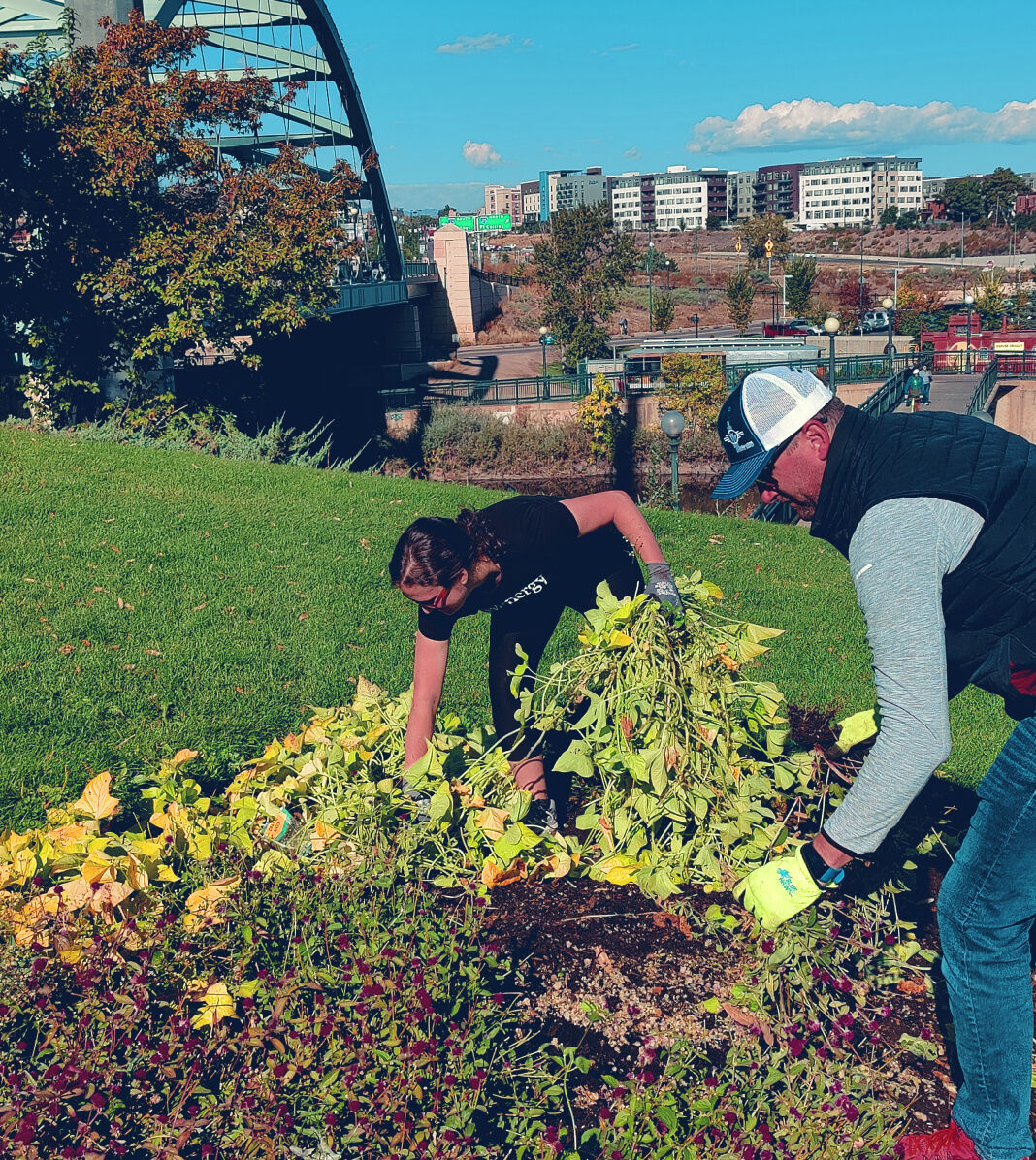 Cleaning up with Denver Parks & Rec
Our Denver team gathered at Confluence Park, an urban park encompassing the confluence of Cherry Creek and the South Platte Rivers in Denver's Lower Downtown, to clean out flower beds for Denver Parks and Recreation to prepare them for next spring's plantings.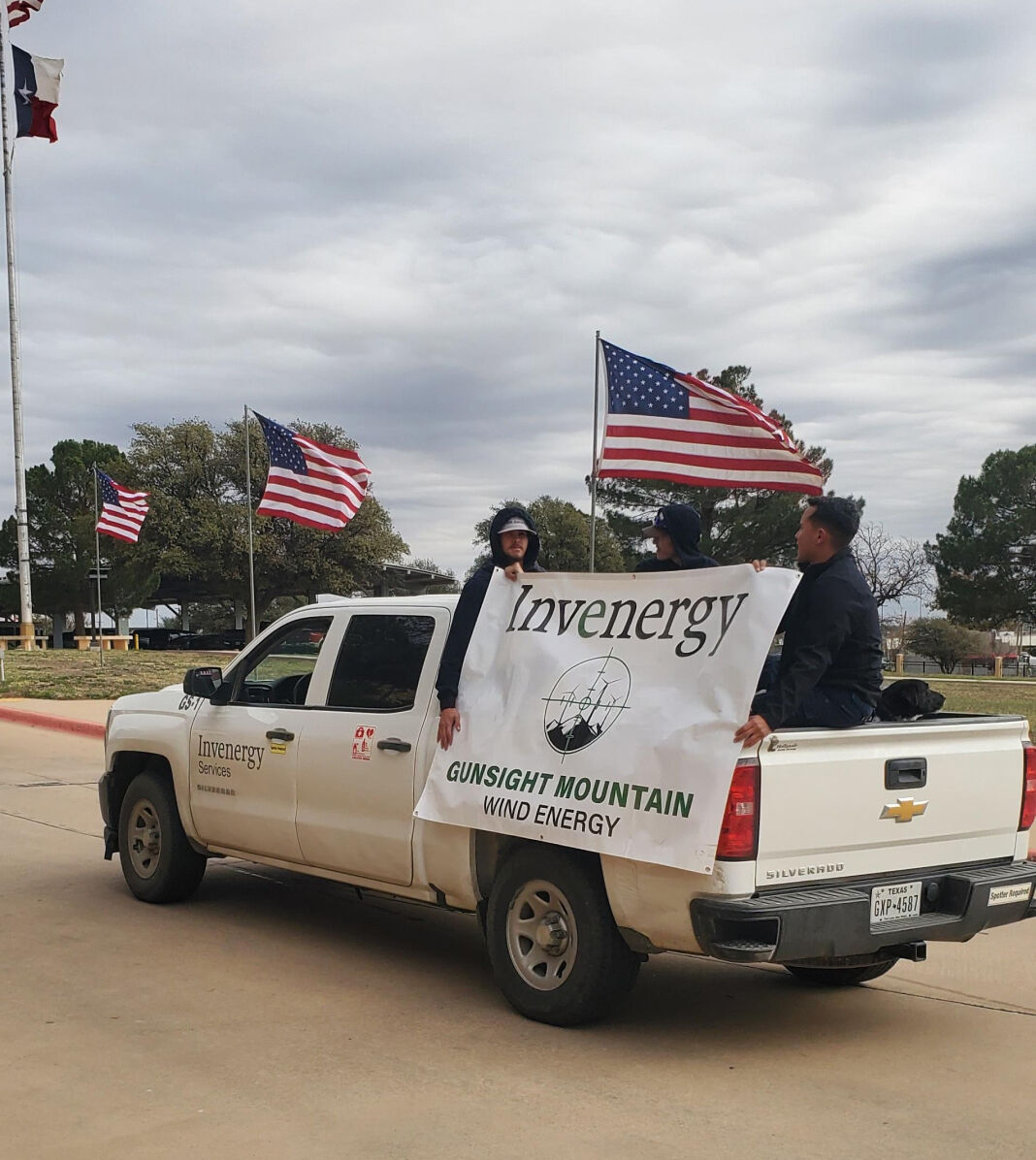 Honoring our veterans
On Veterans Day, our Gunsight Mountain Energy Center (120 MW, Wind, TX) team had the pleasure of spending quality time with veterans at the Big Spring, Texas VA Hospital and took part in a local parade celebrating those who served.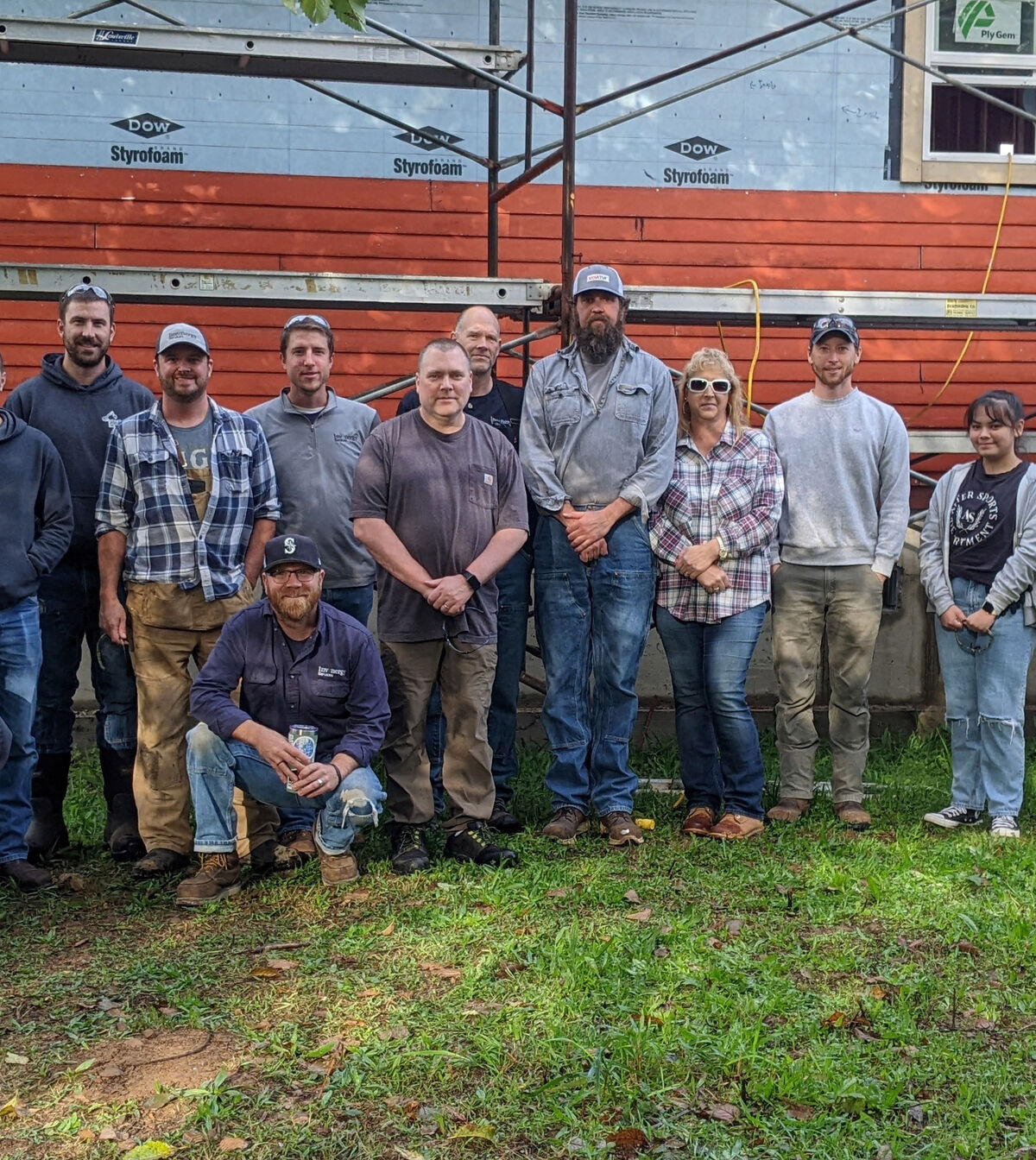 Building stronger communities with Habitat for Humanity
For the 5th year in a row, our team at Grays Harbor Energy Center (620 MW, Thermal, WA) put their technical and physical skills to the test using their VTO to build a home with Habitat for Humanity.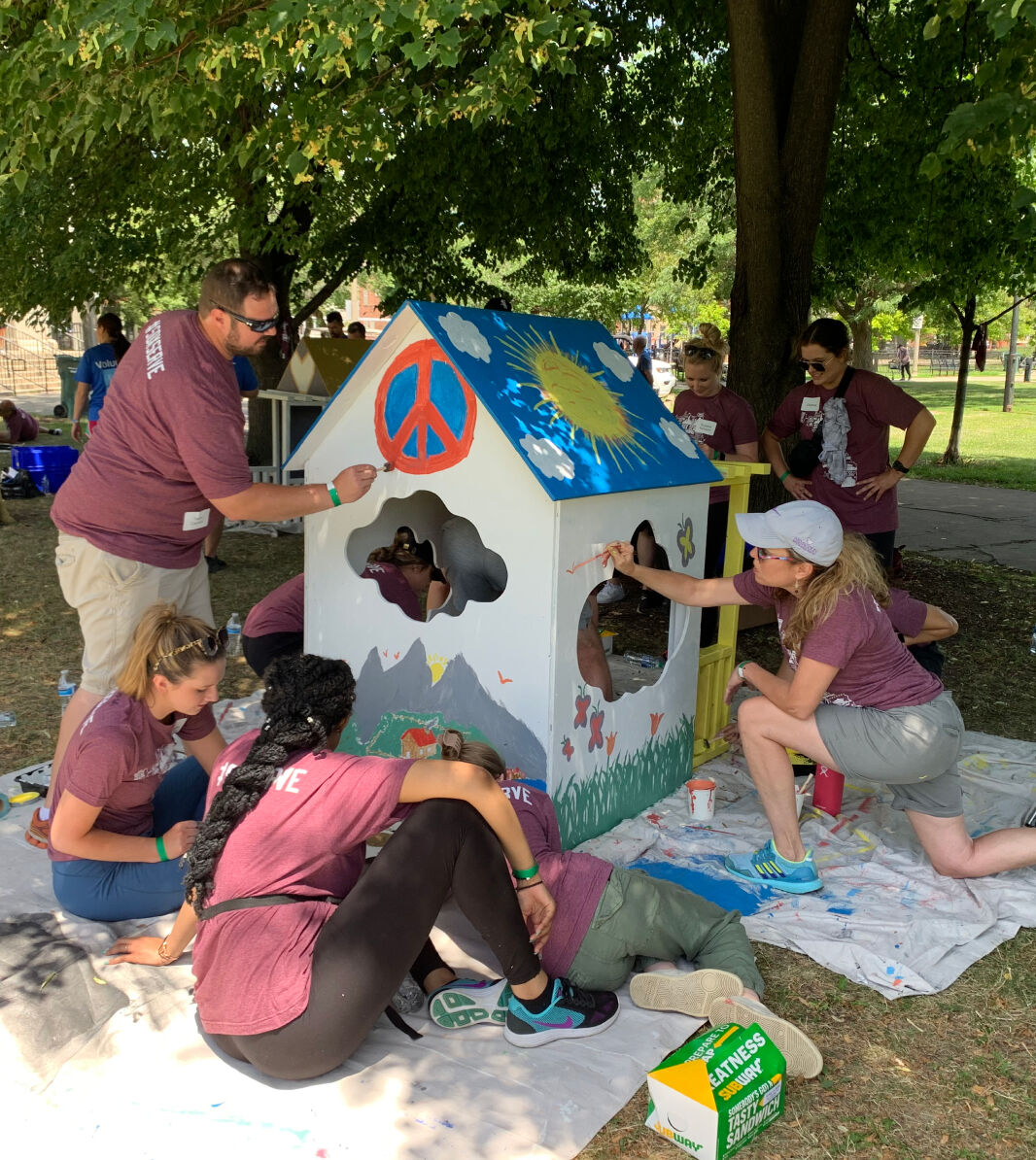 Knocking it out of the park during Sox Serve Week
Our Chicago team volunteered during Sox Serve Week, hosted by the Chicago White Sox. This week of giving included a series of outreach events that involve White Sox players giving back to the community. The team built and painted a playhouse donated to a local nonprofit.
Our impact partners
As we look back on the impact we made in 2022, one thing is clear: we couldn't have done it without our nonprofit partners who are making a difference every day.